Services
Contact Us
Mktg. Office & Works
A/37, Karnavati Industrial Estate,
Trikampura Patia, Phase-III, GIDC, Vatva,
Ahmedabad - 382 445, Gujarat, India.
Mob : 98250 30420 / 93755 30420
Email:



Web : www.taurusautomationindia.com

Braoded Cables
Data transmission cables

Applications:

Is suitable for interconnection of electrical measuring devices to Instrument panel or instrument. Measuring, monitoring and control in machine tool manufacturing, in plant engineering, in all places where electrical interference fields can distort a signal transmission or where Interference pulses arising in the mains must be confined.

Technical Data:

Special PVC data cables, adapted to DIN VDE 0245
The material used in manufacture is cadmium free and contains no silicone and free of substances harmful to the wetting properties of Lacquers.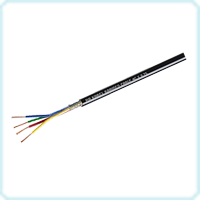 Move Mouse On Image

Product Catalog

User Manual