Services
Contact Us
Mktg. Office & Works
A/37, Karnavati Industrial Estate,
Trikampura Patia, Phase-III, GIDC, Vatva,
Ahmedabad - 382 445, Gujarat, India.
Mob : 98250 30420 / 93755 30420
Email:



Web : www.taurusautomationindia.com

Firex HFFR
Halogen Free Flame Retardant Cable - upto 1100V

- India's 1st Fire-safe Cable with HFFR insulation and UNILAY conductor.
- Zero Halogn.
- Does not catch flame, does not Propagate Fire.
- Non-Toxic, Non-Corrosive.

Applications :

Wiring in all installations where fire safety is of utmost importance. Schools, theaters, commercial complexes, apartments, high rise buildings, laboratories, etc

Conductor :

Thin strands of Electrolytic Copper are multi - drawn for uniformity of Resistance, Dimension and Flexibility. The drawn strands are uni-laid in high precision machines and compacted. Thus forming a perfectly circular conductor which enables reduction in overall diameter for space saving in high density wiring. The strands do not get cut when stripping the Insulation. The conductor offers perfect contact at pins, terminals and sockets. Thus eliminating spot heating and sparking.

Insulation conformity :IEC 60332-1 & 3, IEC 60754-1&2
Marking : The cables are marked "FIREX-HFFR".
Colours : Red, Yellow, Blue, Black, Green, Grey.
Packing : 90 mtrs. coils packed in protective cartons.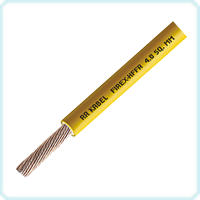 Move Mouse On Image

Product Catalog

User Manual