Services
Contact Us
Mktg. Office & Works
A/37, Karnavati Industrial Estate,
Trikampura Patia, Phase-III, GIDC, Vatva,
Ahmedabad - 382 445, Gujarat, India.
Mob : 98250 30420 / 93755 30420
Email:



Web : www.taurusautomationindia.com

JSDaP Series AC Servo Motor
Specifications
220V Class:suitable motor capacity:100W ~ 15KW
Feature
Complete Model
TECO JSDA & JSDE servo driver when integrated with JSMA Servo Motor 100W ~ 15KW, and combined with a 2000 / 2500 / 8192 ppr incremental encoder will provide excellent performance for a wide range of applications.
Multi-Function
Torque, Speed, Position, Point to Point setting and dual control mode, which enables optimal control by integration with other control systems.
Main Circuit/ Control Circuit Power Separation
Effective protective function, simple to check available for JSDA.
Built-in Brake Unit
To meet the requirement of high inertia load changes.
JSDA:Built-in Braking transistor and Braking resistor
JSDE:Built-in Braking transistor
Simple Gain tuning
Built-in 10 levels of system rigidity setting and ON-Line / OFF-Line auto gain tuning.
Notch Filter
Effective suppression of mechanical resonance to provide a stable control system.
Flexible Gain Control Switching
Speed loop PI(Proportional-Integral)control and P(Proportional)control switching can suppress overshoot and undershoot while motor speeds up or down.
Built-in 16 sets programmable position settings, which enable point to point position control.
Smoothing Effect
In position/ speed mode, the adjustment of time parameter modifies the speed/ position curve , provides smooth operation , therefore extends the life expectancy of the mechanical system.
User friendly interface. Displays status indication and Diagnostics
Multi-sets of programmable I/O ports for multi-function
Complete protective function and multiple alarms for abnormal system behavior
PC operating software on TECO SERVO
With Chinese traditional font/Chinese simplified font/English version on TECO SERVO for parameter read/write, gain adjustment, status indication and digital scope simulating for monitoring internal signals through RS-232 interface.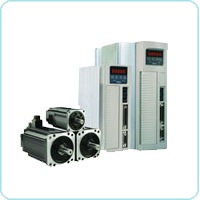 Move Mouse On Image

Product Catalog

User Manual